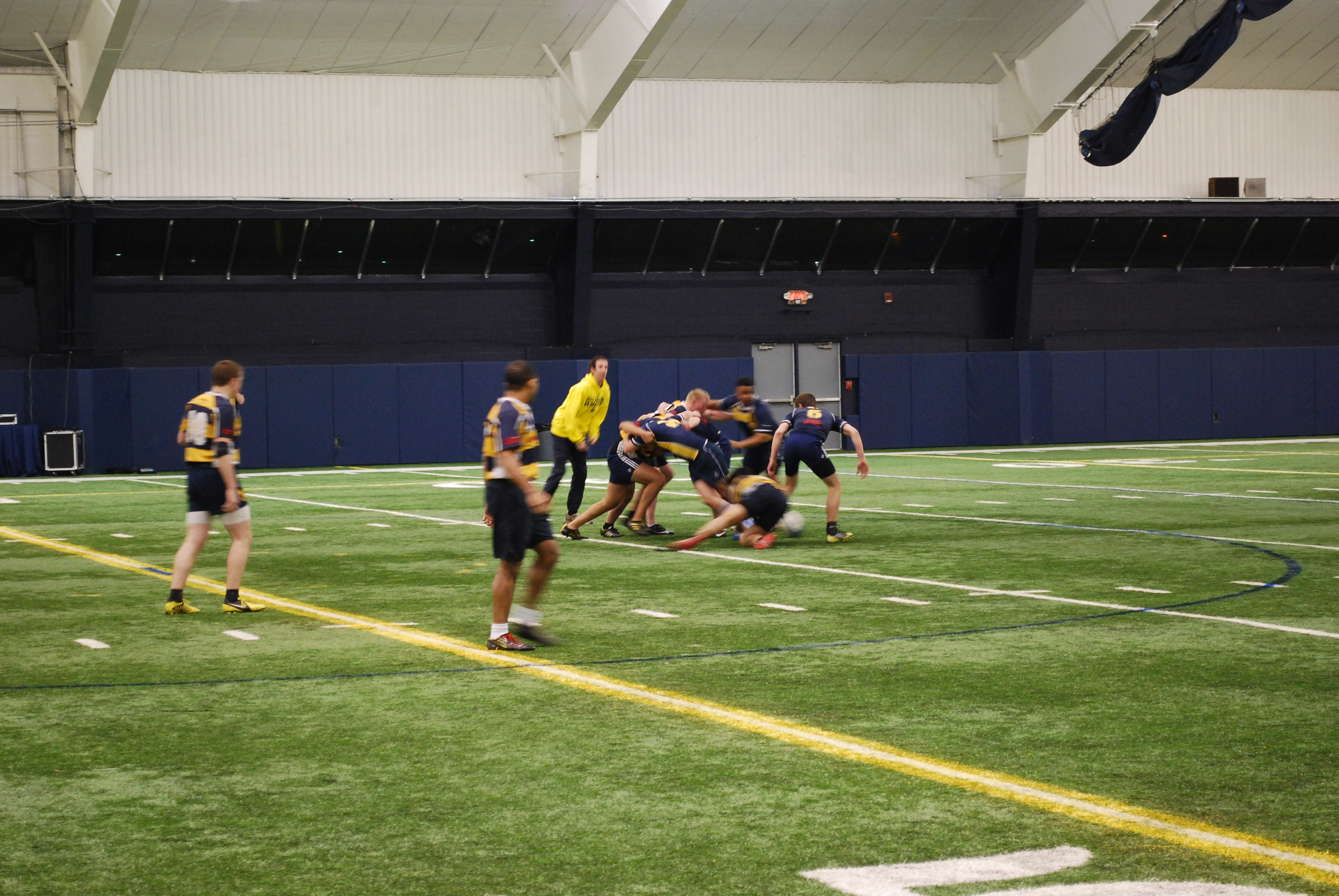 On Friday, February 22, 2013, you are invited to attend the championship games of UMRFC's intrasquad sevens tournament. All matches will be held on the warm, indoor turf field of Oosterbaan Field House (1202 S. State Street). At the request of the University of Michigan, no food or drink will be allowed in the field house.
Schedule of events on February 22:
8:00 Semi-Final – #1 Stephen M. Ross v #4 Don Canham
8:20 Semi-Final – #2 Bennie Oosterbaan v #3 James J. Duderstadt
8:40 5th Place – #5 James Earl Jones v #6 Mary Sue Coleman
9:00 3rd Place – Semi-Final Losers
9:20 Championship (10 min halves) – Semi-Final Winners
9:45 Awards Presentation
The Michigan Rugby Football Club uses the intrasquad sevens as a way to provide additional playing experience for players. Players were split into six teams, and the teams played each other for the last five weeks to determine the seeding for the playoffs on Friday. Team Ross goes into the playoffs as the top seed with an undefeated record of 10-0. For more information, check post game reports from the previous games or see the standings below. You can also watch some of the games on UMRFC's YouTube channel.
Standings:
| | | | | | | |
| --- | --- | --- | --- | --- | --- | --- |
| Team | Pts | W | L | PF | PA | PD |
| Ross | 30 | 10 | 0 | 321 | 58 | +263 |
| Oosterbaan | 26 | 8 | 2 | 242 | 138 | +104 |
| Duderstadt | 20 | 5 | 5 | 150 | 232 | -82 |
| Canham | 18 | 4 | 6 | 236 | 162 | +74 |
| Jones | 16 | 3 | 7 | 142 | 217 | -75 |
| Coleman | 10 | 0 | 10 | 88 | 372 | -284 |