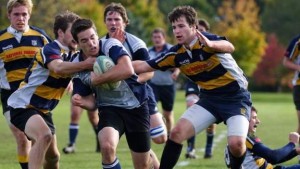 Meet former UMRFC player and future doctor, Davy Hamilton. With a decade of experience under his belt, Coach Davy took charge of new player development this past fall and the improvements have been obvious to all those following the club. From his play on the pitch, dedication to the club post-graduation, and  endeavors in the medical field, Davy is a great role-model and source of inspiration to the younger guys. His departure to medical school next year will surely leave big shoes to fill.
Hometown: Columbus, IN
Degree/major: BS in Movement Science
Position: Assistant coach, flanker and halfback (during my playing days)
Undergraduate years: 2007-2011
How long have you been playing rugby?
I have been playing rugby for too long.
2002-2007 Columbus Rugby Football Club
2007-2011 UMRFC
2011-Present Michigan Men's Rugby Football Club
How did you start playing rugby?
Truth be told, my investment in rugby started with my love of football. Having played football my whole life, I desired to improve my skills and play in the very similar sport of rugby. I had friends on the high school team so it was a fun change of pace from the humdrum of football. Ten years later, I consider myself lucky to have made that decision.
Favorite UMRFC match?
It would have to be the upset of Ohio at the Big Ten tournament during my senior year. We came out strong and took down the superior team on paper, proving that rugby is less about strength or skill and more about heart.
Favorite UMRFC memory?
This is a tough question. Of the many adventures that I had during my UMRFC experience, I would say that the trip to the National Tournament during my freshman year would have to be the fondest. The support that we received from the entire Michigan Rugby community was tremendous and even though we didn't end up winning the championship the memories from that will stick with me for years to come.
Any rugby team you follow outside of the U.S.?
I don't follow any teams religiously but I do like to watch New Zealand and Super Rugby.
What other sports did you play throughout life?
I love sports of all kinds. I have played football, baseball, wrestled, and of course, my second favorite sport behind rugby, table tennis.
Favorite hobbies?
Fantasy baseball and reading are really the only hobbies I have time for right now.
Food?
Papa Hamilton's Fried Rice
T.V. Show?
ESPN
Movie?
Gladiator
Band?
Outkast
What are you doing right now?
I am currently working as a neuroscience researcher investigating the mechanism by which depression and drug abuse effect the brain. Those are relatively fancy terms to describe a cool job in which I give cocaine to rats and monitor its effect. I do love my job but it is simply a detour on my route to becoming a doctor. Recently, I have completed the medical school application process and now have to make a decision on where I want to be for the next four years.
Where do you see yourself in fifteen years? 
I am a goal oriented guy and over the next fifteen years many of these goals revolve around following through with my career plans in becoming a doctor. Med School, residency, research, and my first job in some medical specialty will consume most of my time and energy.
My rugby future is still up in the air, I am unsure that I will be able to dedicate much time to playing or coaching in my medical training but becoming an angry old boy is still very much an option.