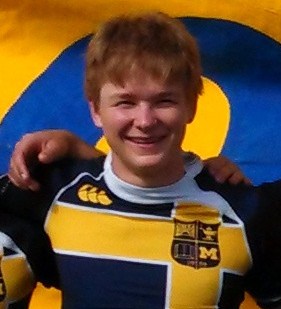 Jesse Fenno is this month's Player of the Month after just joining the club this spring. Jesse's thin size hasn't stopped him from being one of the most consistent tacklers on the team. Fenno brings a great attitude to every rugby session and is always learning more about the game. He will be a sophomore this fall and look to push his way into the first XV.
Height: 5′ 11″
Weight: 170 lbs.
Year: Sophomore
Major: Undecided
Hometown: Ann Arbor, MI
Why rugby?
During first semester of this year I missed playing a sport and being on a team, and rugby has always sounded like fun to me, so I decided to try it out second semester. I stuck with it because it's an awesome game, it makes you use your head and you get to hit people.
What have you liked about Michigan rugby the most so far?
Definitely meeting/chilling with the guys on the team. Also, learning how to play the game has been really cool, although challenging.
Most memorable moment on the pitch?
The first game I played against Davenport's B side was pretty memorable just because it was the first time I had ever been in a rugby game. I definitely learned a lot from that game.
What's your favorite rugby drill in practice? Least favorite?
Most, four man tackling drills. Least, agility ladders.
What other sports have you played?
I played football for three years and wrestled for four at Pioneer High School. Wrestling is the sport that I enjoyed more and got the most out of.
In 5 years, what do you see yourself doing?
Working a job, possibly in a Spanish-speaking country, hopefully not married yet and just having a good time.
What's some embarrassing childhood memory you can tell us?
When I was in fifth grade, I was playing tag on the playground during the winter and I slipped on some ice. I landed on my head/neck and ended up going to the ER and getting put in a neck brace. I only had a mild concussion, but I remember my friends joking about it for the next few days.
Favorite place in Ann Arbor?
Buhr Park, two blocks away from my house. I grew up playing and walking my dogs in it, and I still love to go there when I can.
Biggest fear?
Being blind, because I feel like not being able to see what is going on around me would be a terrible feeling.
Favorite food/meal?
A huge amount of pesto pasta with Italian sausage and a glass of milk.
Any game day superstitions?
Just picturing what's about to happen during the game or thinking about myself playing, nothing too special.
Favorite superhero and why?
The Beast, that blue guy from the X-Men. He is crazy strong, fast and I feel like he could eat a ton of food.
Best advice you've ever received?
No one has ever told me this but I think it's good advice, or at least a good quote: "Even if you're on the right track, you'll get run over if you just sit there" – Will Rogers