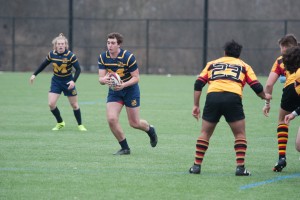 The weather in Michigan these past few weeks has been less than ideal for rugby. Despite this, our developmental side has been putting in a ton of hard work. The team is comprised of a lot of players new to rugby this season. Led by coach Andrew Stevick, the newbies and veterans alike have been working tirelessly to improve their game.
The first game to kick off the young guns' season was against Detroit RFC on March 19th in freezing wet conditions. The developmental squad was able to score two tries against the more experienced Detroit side, but ultimately lost the game 10-39. The Detroit RFC honored our own Jack "Smooth Jazz" Vecchio as their player of the match. Jack had some great runs during the game and ran some hard lines. Although the team walked away with a loss, the chemistry between players and the trust between teammates grew.
On March 25th, our developmental squad again kitted up for some rugby out on Mitchell field. This time a balmy 40 degrees with a slight drizzle, our boys faced off against the Jackson Fenians. The still new Michigan side put up 15 points with tries scored by Alex Carson, Nick Azzopardi, and Liam Clancy. Unfortunately the team still lost 15-37. The effort of the new guys has been really great so far this season. Everyone on the developmental side is ready to go for next week, and they all feel they have something to prove.