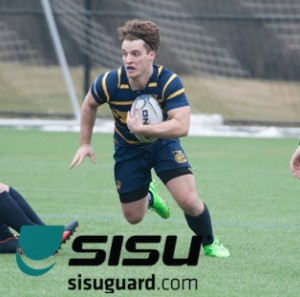 Lyric Kleber has made massive strides since he first joined the team his freshman year. After fighting off injury, the sophomore has really developed into a leadership role on the spring 15s squad this season. His hard work at scrum-half is not going unnoticed, and he was selected as the player of the month for April. Congrats Lyric!
Name: Lyric Kleber
Height: 5′ 8″
Weight: 175
Year: Sophomore
Major:
Undecided
Hometown:
Kalamazoo, MI
Why Rugby?
It's a fun, fast-paced, physical, new sport to me that has been really exciting to learn.
What have you liked about Michigan rugby the most so far?
It's kept me disciplined and in shape, and it's a lot of fun.
Most memorable moment on the pitch?
My first try against Iowa last year was probably the most memorable.
What's your favorite rugby drill in practice? Least Favorite?
Favorite: anything working on running lines and passing
Least favorite: fitness.
What other sports have you played?
Football, baseball, and lacrosse
In 5 years what do you see yourself doing?
Possibly in the Peace Corps, possibly in Grad School.
What's an embarrassing childhood memory you can share with us?
Uhhh, when I was 6 I got lost at Disneyland. That was pretty wild.
Favorite place in Ann Arbor?
The Arboretum is pretty peaceful.
Biggest Fear?
I kinda freak out whenever I think about dying. That's kinda dark, but yeah.
Favorite food/meal?
Love me a good Rueben.
Any game-day superstitions?
No, which is good because if I had them and forgot to do them I'd for sure play terribly.
Favorite superhero and why?
Deadpool, that dude takes no BS. And he's hysterical.
Best advice you've ever received?
Think about how your actions impact other people. Everything you do creates ripples.