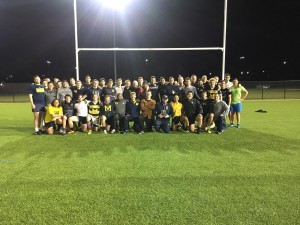 Ann Arbor, MI- This year saw the University of Michigan Club Sports department award its first ever Coach of the Year. The 2017 recipient of the inaugural honor goes to head rugby coach Brandon Sparks for his work with the men's rugby team.
Sparks had numerous nominations that spoke about his work with the Rugby Life Labs which replaces one training a month with a speech given by a professional in a field that players wouldn't learn about in a traditional classroom setting. Some examples of these labs include personal finance advice, time management, nutrition, and career readiness tactics. Along with the Life Labs, his nominations often gave examples of his commitment to making sure his players are successful both on and off the field.
When asked what the award meant to him Coach Sparks said "It is an honor, but I'm aware it doesn't happen without the buy in of the players, coaches, and alumni. This award is as much theirs as it is mine."
University of Michigan looks to finish up their season with the Big Ten 7s Championship next weekend, April 22nd, in Madison, Wisconsin and the XVs programs defends their Michigan Collegiate Cup title at Mitchell Field that same day.