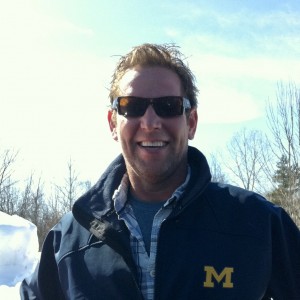 This May we honor Kenneth Hawk as the alumnus of the month. Kenneth is a rugger from a different generation than many we've seen win this award, but he still has many fond memories of his time here at Michigan. Find out more below!
When did you play?
1982-1986
What position did you play?
#8
What was your favorite memory as a member of the club?
All the road trips, but the one to Washington DC for St Patty's Tournament stands out. Our coach and fearless leader Dave Weber gave instructions to all of us to find accommodations or else be stuck in a hotel room with 30 sweaty players. The rest of the story I will share over a pint at Old Boys Weekend this fall. Creating the tradition of the $1 Massages Fundraiser at the Diag is also burned into my favorite memories along with winning the Big Ten tournament even after the opposing team ate worms from the turf just before kickoff.
Did you receive any special honors as a member of the club?
I was honored to serve as Social Chairman, President and finally Co-Captain with Jeff Hagan my final year.
What are you doing now?
I am the father of three amazing daughters Alex 19, Sophia 15, Heidi 7, and one future Rugger Holden (2) that already looks like a #8! I am also building a global connected car software company Mojio based in Palo Alto, Vancouver and Prague that is backed by Amazon and Deutsche Telekom. Always looking for talented engineers that also play rugby.