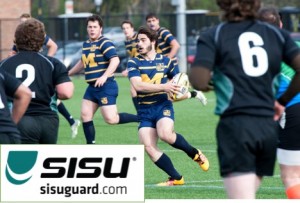 Juan Marco is a rising sophomore who had never played a contact sport before this year! A budding member of the intrasquad sevens team Bennie Oosterbaan, we expect big things from him this coming year. Congratulations Juan Marco!
Name: Juan Marco
Height: 5'7″
Weight: 167
Year: Rising sophomore
Major: Art & Architecture
Hometown: Miami, FL
Why Rugby?
I wanted a sport that was undoubtedly going to push me, and force me outside of my comfort zone.
What have you liked about Michigan Rugby so far?
Everyone who plays the sport isn't afraid of being completely themselves.
Most memorable moment on the pitch?
The first time I got tackled in my first game.
What's your favorite rugby drill in practice? Least Favorite?
Favorite: Offensive 2 v 1, Least Favorite: sprints of any kind
What other sports have you played?
Rock climbing and mountaineering
What do you see yourself doing in 5 years?
Hopefully somewhere in the west coast working in some sort of creative collective during the week and exploring the mountains on the weekends.
What's an embarrassing childhood memory you can share with us?
I used to get confused for a girl all the time because I had long hair when I was a kid, I would get pretty upset about it.
Favorite place in Ann Arbor?
Law quad. Can't get enough of it.
Biggest fear?
Not being good enough.
Favorite food?
The Paella my grandma makes.
Any game-day superstitions?
I mess around with some of my healing crystals for good vibes.
Favorite Superhero and why?
Yukon Cornelious the greatest adventurer of the north!
Best Advice?
Don't get too busy trying to make a living that you forget to live a life.