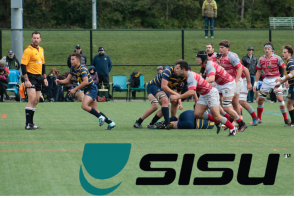 Jordan Perez is a freshman who played rugby in high school and was put in a starting position as a young player. He has thrived at scrum half and will develop into a phenomenal leader of this team. Keep up the good work Jordan!
Name: Jordan Perez
Height: 5'8″
Weight: 150
Year: Freshman
Major:  Business
Hometown: Parker, CO
Why Rugby?
My friends in high school convinced me to play it and I wanted to keep playing it in college.
What have you liked about Michigan Rugby so far?
One of my favorite things about Michigan Rugby is feeling like belong on the team. It's a great group of guys that make me feel at home on and off the field.
Most memorable moment on the pitch?
My most memorable moment on the pitch was scoring my first top 23 try against Illinois.
What's your favorite rugby drill in practice? Least Favorite?
My favorite drill in practice is when we scrimmage or do drills that allow us to practice at full speed and work with the ball a lot. My least favorite drill would be anything that has only tackling and no ball involved.
What other sports have you played?
I have played other sports sporadically, but hockey was the main sport I played besides rugby.
What do you see yourself doing in 5 years?
I see myself either getting my masters in business, or working with a finance firm
What's an embarrassing childhood memory you can share with us?
Dropping the F bomb when I was five around my dad and his friend, because I didn't know what it meant yet but I knew it was funny
Favorite place in Ann Arbor?
Mitchell Field
Biggest fear?
Spiders
Favorite food?
Fettuccine Alfredo
Any game-day superstitions?
On game days I always listen to a pump up playlist for a little bit, but mostly like to get loose and joke around before it's time to get serious
Favorite Superhero and why?
The flash, because I was always fast growing up and wanted to be like him.
Best Advice?
Advice from my dad telling me all you have to do is work harder than the people around you and you'll be successful.