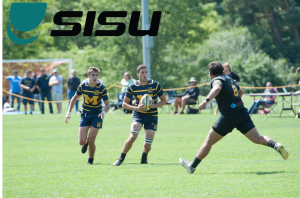 Ben Cotsarelis is a senior on the team who played a season of rugby in high school, but started on the team essentially as a beginner. One of the many Philly boys on the team, he eventually made his way up to starting on the Top 23 for his final senior year season. Congrats Ben!
Name: Ben Cotsarelis
Height: 6'3″
Weight: 200
Year: Senior
Major:  Computer Science
Hometown: Berwyn, PA
Why Rugby?
Played a season with my high school team and really enjoyed the sport. When I first came out I wasn't sure but I fell in love with the game.
What have you liked about Michigan Rugby so far?
The friends I have made on this team that I know I'll have for the rest of my life as well as the competitive feeling of playing Big 10 rugby.
Most memorable moment on the pitch?
The most recent 15s game I played for Michigan Rugby (and potentially the last ever) when I made the first hit of the game off the kickoff and then Davis intercepted a pass and scored us a try.
What's your favorite rugby drill in practice? Least Favorite?
Favorite: Rugby League styled scrimmage. Least Favorite: barrel rolls.
What other sports have you played?
Baseball and Soccer
What do you see yourself doing in 5 years?
I don't know where I see myself tomorrow.
What's an embarrassing childhood memory you can share with us?
I used to talk to myself as a little kid. My mom always says I started talking early and once I started I never shut up.
Favorite place in Ann Arbor?
NeoPapilis Pizza
Biggest fear?
Dying with lots of regrets.
Favorite food?
Sushi
Any game-day superstitions?
Nothing crazy. I try to work on my game-day mindset in the week leading up to the game. If I feel like I didn't do enough to do that, sometimes I feel off.
Favorite Superhero and why?
Iron Man because he's a genius. As a kid I always loved all his high tech stuff.
Best Advice?
It's all about attitude.