Note: Michigan Rugby is in a transitionary period of our Strength and Conditioning. Below is a bio of a previous (and phenomenal) S&C coach who has since moved on to a D1 program at Marquette University. We wish Stu all the best at Marquette and will be forever grateful for his contributions to this club. Updates about the new direction we are taking as a club to come!
Head Coach – Stu Roche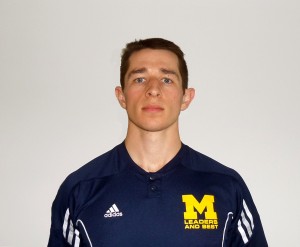 Education
B.Sc. – Sport and Exercise Science, Loughborough University, England, 2011
Professional Certifications
Certified Strength and Conditioning Specialist (NSCA), 2013
USA Weightlifting Sports Performance Coach (USAW), 2012
Adult CPR & AED, American Heart Association (AHA), 2012
Rugby Football Union Level 2 Coach (RFU), 2010
Biography
Coach Roche is in his fourth season as the Head Strength and Conditioning (S&C) Coach for the UMRFC. Roche joined the UMRFC as a member of the coaching staff in fall 2011, when he initiated the strength and conditioning program with the team. Prior to joining the staff, Roche participated in an internship at the University of Michigan with the Olympic Sports Strength and Conditioning Department directed by Coach Favre and Coach Sandoval.
As the head S&C coach, Roche designs, implements and develops all aspects of the year-round UMRFC strength and conditioning program, including advice and instruction on nutrition, sports supplements, and overall player welfare. His programs focus on speed and power development through the use of rugby-specific movement patterns and Olympic lifting techniques. These programs are all informed by scientifically supported methodology. At any one time during the year, there may be four or five distinct strength and conditioning programs in operation according to position demands and individual goals.
Coach Roche brings with him a wealth of experience, having either played or coached rugby for the past 14 years. He became certified as a Level 2 rugby coach while earning his degree at Loughborough University, the number one sporting university in the UK.
Coach Roche is accredited as a Certified Strength and Conditioning Specialist (CSCS) through the National Strength and Conditioning Association (NSCA) and also holds the Sports Performance certification from USA Weightlifting (USAW).
Originally from Stamford, England, Coach Roche currently works as a published research specialist in the Department of Orthopaedic Surgery at the University of Michigan's Biomedical Science Research Building. In the near future, Roche hopes to enroll in a graduate degree in exercise physiology and continue to develop as a strength and conditioning professional through a collegiate graduate assistantship.