Thank You
First and foremost the UMRFC would like all of the generous donors that helped make our 2011-2012 campaign possible. Just as the players learn on the field, no one can do this alone. It takes a team effort and your support is needed to make the UMRFC bigger, better, and sustainable.
This past year our total budget was just under $40,000. About 5% of this came from the University while 20% came from donations. The remainder came solely from player dues, fundraisers, or work. As the club continues to grow we will need to rely more on alumni and family donations.
$25,000 Campaign
November of 2012 marked the launch of Michigan Rugby's $25,000 campaign. The campaign aims to cover the current budget shortfall as well as fund the first half of an endowment within the university. Another $25,000 campaign will be launched next fall and after that success, the club will have the minimum amount to start the endowment.
On the field below, we will track the progress by moving the ball across the field. A recent line break brings us up to $15,000! Another significant milestone on our trip to the try zone. More than 60 donors have contributed. Let's link up with a few more teammates as we pressure in the attacking half!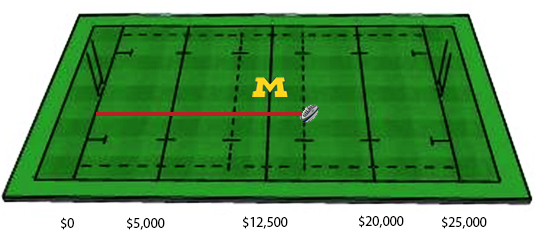 Specifc Gifts
If you would like to get a better idea of the club needs, below is a list of specific items that help the club operate. Without your support, the players will be responsible for all items. You can help the players by targeting specific items. Everything helps and 100% of your contributions go to the club. When donating, enter the value in the form that appears. Thank you for your support. Go Blue!
Suggested Player Gifts
$400 = Yearly Dues
$100 = Cleats
$80 = Kit Bag
$50 = Scrum Cap
$40 = CIPP Payment
$35 = Practice Jersey
$25 = Shorts
$20 = Ball
$15 = Socks
$10 = Mouthguard
$5 = Halftime Oranges
$1 = Roll of tape
Suggested Club Gifts
$3000 = Bus Trip
$1000 = Night in Hotel
$350 = Coaching Clinic
$300 = Pop-up Canopy Tent
$250 = 20 Training Bibs
$250 = Sevens Tournament Entry Fee
$200 =  2 Tackle Pads
$100 = 4 Speed Ladders
$50 = Trainer attending 1 practice