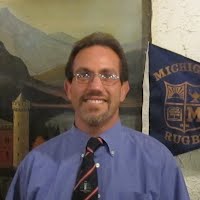 I started playing rugby in 1981, my junior year at U of M. I had never seen a rugby match before, didn't know what it was, but was captivated watching it at Elbel Field on the way to a football game. I asked about the game and someone suggested that I come down Tuesday evening to practice and try it out. I was not an athlete in High School, so it took me a while to develop as a rugby player. I was so impressed that there were people who would take the time and energy to teach me the game, and that there were as many games as needed for everyone to play. That part of the sport made a lasting impression on me as the way life should be, in our sport and beyond rugby.
I graduated and stayed in Ann Arbor for my MBA, getting a great education and getting to play more Michigan rugby. I went off to Chicago for a year, but that fall I still played a few matches for Michigan, coming home one weekend a month and meeting the team in Indiana or Ohio for away games. So, I like to think that my career as a Michigan rugger has been uninterrupted.
The 1987 Big Ten Tournament stands out in my mind as a great rugby experience and a great life lesson. We were hosting it at Mitchell Field, and as a PhD student I was eligible under the rules at the time. I was playing A side that season, but was asked to be the B-side flyhalf and captain for the tournament. I was at first disappointed; the competitor in me wanted to play at the highest level. I sucked it up and starting practicing my kicking, which was never stellar. The A side got knocked out, but the Killer B's not only won our division, but went unscored upon for the tournament. The final match would be familiar to many on the team today, as our much smaller squad was pinned down in our own end all half, but played stout defense and refused to yield. Bolstered with confidence that us Davids could slay their Goliaths, we owned them for the second half, scoring three tries if my memory is correct. My boot was even decent that day. The A side cheered us on from the sideline, but I was lucky to be on the field, with my mates on the B side.
I have been player, captain, coach and referee in my 30+ years of Michigan Rugby. I have really loved all of it. The game and the great mates that I have had and continue to have are the best part of my life outside of my family. I guess that is why I won't stop. I am currently still playing for the city club, coaching kids at the Y in touch rugby, and occasionally reffing college or high school matches. I may not play forever, but I won't quit until Fish and Raboine do.
Along with my longtime teammate and business partner, Jeff Hagan, I part-own and manage a couple dozen rental properties. Champion Management has been proud to be the landlord (and employer) of many a Michigan rugger, whether it was a formal rugby house (a good idea at the time, but times change) or as is now, mostly grad students and working-world ruggers. This has worked out well for us and for the team, of which I am proud.
I am also proud of all of us who raised money hosting the Michigan Cup on Belle Isle in the late nineteen nineties. The students that worked hard on that were gone by the time we used the funds towards taking the college team to England for Spring Break in 2001. That tour (and the start of the Hill house) began an era marked by great overseas tours and great improvement and achievement on the field.
Playing rugby is great, playing rugby for Michigan is so much more. The caliber of people I have met and continue to meet is staggering. Michigan ruggers are not just athletes, they are scholars, creative business people, big-hearted and hard working at most all they do. And most are a bit quirky, which makes them a lot of fun to be around.
Cheers mates!