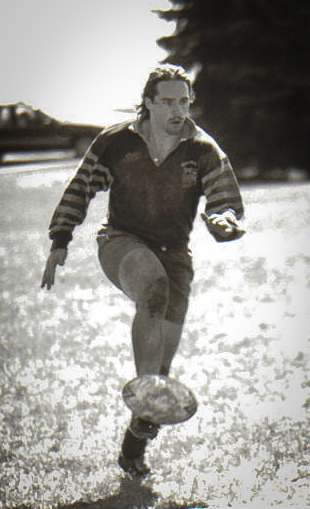 When did you play?
I started playing as a Freshman in the Fall of '94 and played every minute of rugby I could until graduating in the Winter of '98. The Senior side was peaking during that time and I benefitted greatly by practicing with them and watching them play. The college side was much less successful in terms of wins and losses, but I think the guys of that era deserve a lot of credit for keeping the team together. We often traveled with 16 or 17 guys and many of us played 160 minutes of rugby every weekend. We were a good attacking side with really dynamic players in the loose. Where we struggled was in the set pieces because, like many Michigan teams, we couldn't match the size of our opponents. It wasn't easy to get front foot ball and as a result (at least in part) I developed a knack for tactical kicking. It was my belief that if I could find open spaces and put the opponent's back 3 under duress then our superior talent in the loose could find opportunities to score. Sometimes it worked. Sometimes it didn't.
Despite our lack of numbers, I always felt that if you took a sample of rugby players on campus at any given moment we could field a really talented team. Unfortunately we just couldn't keep enough of the same guys out on the pitch on a regular basis. It seemed like a different lineup each week. Where we did enjoy some success was during tournament play. We could always get enough of our best players to buck up for a single weekend and we would field some pretty competitive teams. Unfortunately those teams lacked the continuity necessary to really make noise. After graduating, I kicked around with the Senior side for a few years, but reconstructive surgery on both shoulders and various other injuries kept me from ever really getting back to form. I've tried to remain close to the club since my playing days have ended and have done my best to mentor as many players as possible.
What is your favorite memory or memories as a member of the club?
I have a lot of individual moments in my memory that run like a slideshow. A try here. An assist there. A tackle, a dust-up, a rucking. I mostly remember great teammates. Too many to mention, they are brothers for life. I do remember a Michigan Cup Tournament where we played particularly well. We went the whole weekend only giving up 3 points in 4 matches. Unfortunately those 3 came in the finals when we lost 3-0. Rather than recounting specific memories, though, I'd prefer to remember specific people that stood out during my almost 19 years with UMRFC.
Favorite Characters:
Dave Perpich (Captain Silly) – Mere moments after my first practice on a Tuesday in the Fall of 1994 I found myself in the back of Dave's vehicle travelling at a high rate of speed heading to parts unknown. After that, I would say it would not be unreasonable to suggest that I may have spent more time with Perp in the ensuing 4 years than his wife, Liz did. Dave was, and is, a mentor and great friend. His contribution to Michigan Rugby is immeasurable.
Mike Livanos – Though I lack the sheer intensity of "Hurricane Dave," I tried to be for Mike what Dave was for me. I think Gyro-san deserves a special place in the history of the club. His first semester was my last and I watched the club begin its transformation during his time at the helm. In a few short years the club went from struggling to field two sides to having enough men for three. Though plenty of others contributed, Mike steered the ship.
Elmo Pratt – Elmo was the first person (along with Mike Springs) that I met during my first practice. He was Captain or President (I forget which) of the Senior side and was super welcoming and thanked me for showing up. My immediate impression was, "this dude is cool." That summation was confirmed countless times since. He was also a damn fine rugger.
Lee Gray and Tom Warburton – I choose to list these two guys together as they are indelibly etched in my mind that way. Individually they are wildly fun, intense, and outrageous. Together, they are insane, and well worth the price of admission.
Ed Spybrook – At his physical peak, he was the scariest man on the pitch. Seven feet tall he was, with arms like tree trunks. His eyes were like steel. Cold. Hard. Had a shock of hair, red like the fires of Hell. Off the pitch, well, you wanted him on your team there too.
Favorite Players:
Jeff Hagan – Though I wasn't able to see Jeff play in his prime, I have been fortunate to take the pitch with him and against him plenty over the last 19 years and each and every time he was the best player on the pitch. An absolute legend of Michigan Rugby and one of my personal heroes.
Ashby Kinch – One of the players I most tried to model my game after. He was a really smart player and was an absolute magician with the ball.
Mike Carter – I had no illusions that I could model my game after Mike. Though not a big man, he was tough as nails and had frightening speed. Anyone who read the recap of the '95 National Championship will have noticed Mike's name numerous times.
Chris Collis – Probably the fastest. Let him through a crack in your defense and you may as well head to midfield and wait for the kickoff.
Andrew Marcus – I watched Marcus play well after I graduated and got a chance to play with him when we taught the boys from Trinidad a lesson during the first T&T tour. Marcus was equal parts dirty S.O.B. and brilliant rugger.
Jason Wolf – "The Wolf? That's all you had to say." Jason was the best player I played with as an undergrad. Think "Conrad Smith" and you'd have a good approximation of how I felt about him on the pitch. He was a devastating tackler and a punishing runner.
Favorite Players I Didn't See Play:
Dale Tuttle – The stories of Dale's intensity are legendary. When he ran he was all elbows and knees. I remember playing him in an Olde Boys match or two. While his legs were moving one way and his body another, he would uncoil his arm with the ball in hand so you could get a good look at it. While you stood there hypnotized he'd run right by you. It was a dummy to end all dummies and you would be left to stand there like a dummy.
Tony Menyhart – I played numerous times with Tony, all while he had children that were my age. It was amazing to see how he was always in the right place, even though he no longer had the pace, youth, or athleticism to do so. The stories he can tell and the level of rugby he played are mind boggling to me.
Dave Weber – Tony Menyhart once told me that David Weber was the best rugby player he ever played with. That's good enough for me.
Did you have any special honors during your time with the club?
I was selected as captain for the first time in the Spring of my sophomore season and held that position until graduating in the Winter of '98. I played for the Michigan Select team that same Spring and reasonably expected to have a few more cracks at it, but for whatever reason, politics or otherwise, that never happened. I spent a lot of time early on learning rugby songs so I suppose I was also defacto choirmaster.
What are you doing now?
I still live in the area with my wife and best friend, Melissa. We travel as often as possible and have established a routine of relaxing in Costa Rica a couple times each year. I graduated with a degree in Film and Video Studies but don't use it. Instead I work as a Sales Consultant for an orthopedic trauma company called Synthes. On my best days I attend surgeries and consult with surgeons on how to fix broken bones. On less good days I attend surgeries and quietly stand in the back of the room. Sometimes I tell jokes and mix music.
Any other interesting stories or info that you can provide?
I love the UMRFC and the MRFC with all my heart. I have been around the club for almost 19 years, but only 4.5 of that was as a student. I ask that when you students graduate that you don't disengage. Stay engaged. Be a mentor. Allow yourself to be mentored. Travel and learn the things that the classroom can't teach. Show up to Olde Boys, and wear a funny outfit to the golf outing. You won't regret it.
Lastly, I'm really pleased with the current direction of the club. Olde Boys reading this that haven't been around in a while, come back. Meet the current players and Coach Trenary. He is an impressive guy, the type that looks you in the eye when he speaks to you. He knows his stuff and is doing a fine job. If you're an Olde Boy or supporter of the club please consider donating money to help the club's drive to fund an endowment with the university. See you at OBW 54, where, in the words of Dave Perpich, "we will give the young boys a bit of tutelage, if you will." Same as it ever was, Dave. Same as it ever was.
Cheers and GO BLUE!