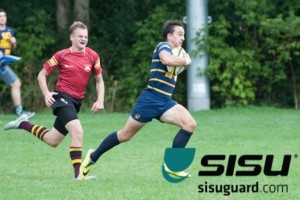 Tanner Visco is a rising sophomore who played sevens with us this spring. He hails from Philadelphia and has already been developing into a key player for Michigan. He is playing rugby with the North Penn men's team this summer. Congratulations Tanner! Find out more below…
Name: Tanner Visco
Height: 5'10"
Weight: 180
Year: Rising sophomore
Major: Undecided
Hometown: Philadelphia
Why Rugby?
I decided to play rugby during my freshman year of high school. I was curious about the game so I came out to practice. After my first game I fell in love with the sport.
What have you liked about Michigan Rugby so far?
The people involved in this program. From the players to the coaches these are some of the most special people I have met in my life and they are what make Michigan rugby one of the best teams on campus.
Most memorable moment on the pitch?
Scoring my first Top 23 try against Minnesota, Dozer got a nice break and I got the ball off a nice switch from the outside.
What's your favorite rugby drill in practice? Least Favorite?
Expression session is definitely my favorite drill. My least favorite had to be the plank army crawl bridge that we did in the pouring rain.
What other sports have you played?
I used to play football, baseball, basketball, soccer, and swimming.
What do you see yourself doing in 5 years?
Hopefully working at a job that I am passionate about.
What's an embarrassing childhood memory you can share with us?
When I was 8 I slept walked around my house and ended up going to the bathroom in my closet.
Favorite place in Ann Arbor?
For a sit down, Sava's, but Frita batido is a great place for lunch.
Biggest fear?
Heights
Favorite food?
Lobster
Any game-day superstitions?
Not really.
Favorite Superhero and why?
Iron man because he is the most realistic superhero. Eventually someone be able to build a suit like that.
Best Advice?
For rugby, look to pass first, look to run second.