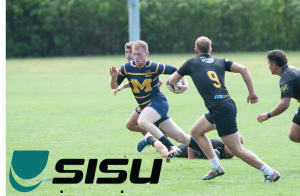 Jake Bailey is a senior who has been an officer for two years in a row now, he currently serves as treasurer of the team. He has been a committed wolverine since he joined the team. Congratulations Jake!
Name: Jake Bailey
Height: 6'2″
Weight: 200
Year: Senior
Major:  International Studies, Psychology
Hometown: Jenison, MI
Why Rugby?
I chose rugby as a way of staying in shape in college, in addition to being able to compete at the highest level.
What have you liked about Michigan Rugby so far?
Michigan rugby has given me most of my close friends in college, in addition to a real sense of ownership as part of the club in becoming an officer.
Most memorable moment on the pitch?
My first try: Last fall, against John Carroll, Louis didn't know he was in the try zone and offloaded the ball to me. Still counts.
What's your favorite rugby drill in practice? Least Favorite?
My favorite drill is dynamic lines, and my least favorite is fitness.
What other sports have you played?
I've played football, golf, basketball, and baseball.
What do you see yourself doing in 5 years?
Hopefully somewhere overseas working within either the local or U.S. Government.
What's an embarrassing childhood memory you can share with us?
I had to dress myself the night before school until the 4th grade because I had so much trouble figuring out what to wear in the morning.
Favorite place in Ann Arbor?
Mitchell Field
Biggest fear?
Snakes
Favorite food?
Chicken casserole
Any game-day superstitions?
I listen to the same playlist, in the same order, starting at the same time before every game.
Favorite Superhero and why?
Batman, because he's just a nerd who wants to save the day.
Best Advice?
"The difference between you winning and losing is just one step. Go through it and not to it, and you'll have a totally different outcome." -Coach Zach