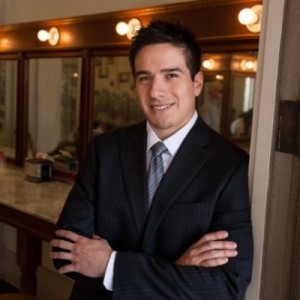 When did you play?
2003-2006
What position did you play?
11
What was your favorite memory as a member 

of

 

the

 club?
My favorite memories were
the
road trips we took to play other clubs.
The
camaraderie with other teams was fantastic and it pretty much confirmed that you would have had just as much fun playing rugby at any other college if you didn't happen to end up playing at UofM.
Did you receive any special honors as a member

of

the

club?
If Zulu counts then yes. Otherwise, it was always an honor to wear
the
UMRFC crest and play against our Big Ten rivals and other universities. I never imagined my college experience would include me representing UofM playing a sport, but rugby allowed me to do that even though we were just a club.
What are you doing now?
I started working for Lockheed Martin right out
of
college and I've been in New Orleans
the
past 10 years working at
the
NASA Michoud Assembly Facility as a materials engineer. Lockheed is building
the
next generation astronaut crew vehicle called Orion and we are also supporting Boeing on building
the
next-gen rocket called Space Launch System. I support those programs just a small amount since I mostly work in research and development focusing on advanced manufacturing and advanced materials topics. I also became an Adjunct Professor at University
of
New Orleans and Louisiana State University following completion
of
my PhD in 2013. I got married to my lovely wife Heather in 2016 and we are looking to finally start a family. Beyond that I spend my spare time wishing I was still playing rugby!
Any other interesting stories?
Most
of
these are best reserved for Olde Boys Weekend (I'll make it back one
of
these years).
The
only other interesting story is that I finally had to give up rugby after playing for
the
New Orleans RFC for several years when
the
accumulated injury list became too much to handle: a 3rd degree separated shoulder (left), a dislocated shoulder (left) w/surgical repair, another 3rd degree separated shoulder w/surgical repair (right), nose broken-in-4-places with nasal reconstructive surgical repair, a right foot sesamoidectomy, and a right wrist tendon surgical repair….and I have no regrets.